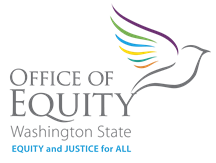 The Office of the Corrections Ombuds (OCO) is actively participating in the Washington State Office of Equity's Pro-Equity Anti-Racism (PEAR) Teams.
Governor Jay Inslee signed Executive Order 22-04, which included creating the Washington State Office of Equity. The Office of Equity is charged with: 
Helping agencies meet their reporting requirements
Holding the agencies accountable for compliance with the order
Reporting compliance to the Legislature and the Governor 
The OCO agrees with Governor Inslee's words in Executive Order 22-04 that, Washington is a state where all are welcomed and will have the opportunity to thrive regardless of race, ethnicity, creed, color, national origin, citizenship or immigration status, sex, honorably discharged veteran or military status, sexual orientation, or the presence of sensory, mental, or physical disability.
 The OCO is tasked with:
OCO Team Leaders are: 
Chase Rapach: Chase is an Early Resolution Ombuds with the OCO and a member of RAIN Best Practices. They volunteered to do PEAR work because they believe all systems need to be examined with an anti-racist lens. 
Zachary Kinneman: Zak is an Community Relations Specialist with the OCO and is following PEAR issues concerning the aging and elderly incarcerated population. 
E.V. Webb: E.V. is an Assistant Corrections Ombuds - Investigations with the OCO.
Elisabeth Kingsbury: Elisabeth is a Senior Corrections Ombuds - Policy with the OCO.
Conducting an Equity Impact Review (Due August 1, 2022)

Creating and implementing a PEAR Strategic Action Plan (Due September 1, 2022)

Preparing a PEAR Annual Performance Report annually beginning September 1, 2023

Updating the agency's PEAR Strategic Action Plan annually
The OCO hopes to partner with empathy-centered community members to embed the PEAR Framework in all agency decision making and actions. All are welcome; we hope you will join the OCO's PEAR team. If you would like to learn more, please email the OCO PEAR Team. Thank you!