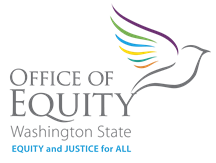 The Office of the Corrections Ombuds (OCO) is actively participating in the Washington State Office of Equity's Pro-Equity Anti-Racism (PEAR) Teams.
Per Executive Order 22-04, PEAR Teams must include agency executive leaders, the agency equity officer, employees, external customers, partners, and experts for key business lines. The goals are examining and reforming the equity practices of all state agencies to enable all people in Washington to achieve their full potential. 
THE OCO PEAR Team Leaders are: 
Carolina Landa, MPA: Carolina is an Assistant Ombuds with the OCO and identifies as a Mexican-American woman. She brings cultural competency, along with, an equity and inclusion lens to this work. 
Chase Rapach: Chase is an Early Resolution Ombuds with the OCO and a member of RAIN Best Practices. They volunteered to do PEAR work ecause they believe all systems need to be examined with an anti-racist lens. 
Zachary Kinneman: Zak is an Early Resolution Ombuds with the OCO and is following PEAR issues concerning the aging and elderly incarcerated population. 
All are welcome; we hope you will join the OCO's PEAR team. If you would like to learn more, the OCO PEAR Team asks that you contact Caitlin Robertson, and she will pass along your contact information to the team. Thank you! 
The staff of the OCO met multiple times during the summer of 2020 to craft our Antiracism Strategic Plan. Throughout the next six months, the staff of the OCO continued to regularly hold small group and all-staff meetings to discuss ways to imbed the strategic plan into all policies and procedures.  
Incorporate antiracism in the OCO mission and values statements.
Apply and specifically address a race equity lens to all the OCO systemic reports.
Apply race equity lens to individual investigations and be aware of how racial bias/injustice may have negatively impacted the involved Incarcerated Individual.
Implement regular internal discussions/trainings on antiracism strategies and racial justice topics in order to continue to lift up and reinforce the concepts within the agency.
Engage with Dr. Johnson, DOC's Equity and Inclusion Administrator, to support DOC's internal racial justice work.
Proactively seek external trainings from other organizations involved in race equity, racial bias and discrimination investigative work (AG, EEO, Civil Rights, etc.)
Publish an annual report on allegations of racial bias that are received by the OCO, with recommendations for improvement and follow up.
Create space to directly hear from incarcerated individuals regarding racial bias in the Washington DOC system.