Washington Corrections Ombuds Organizational Chart
Staff Bios
-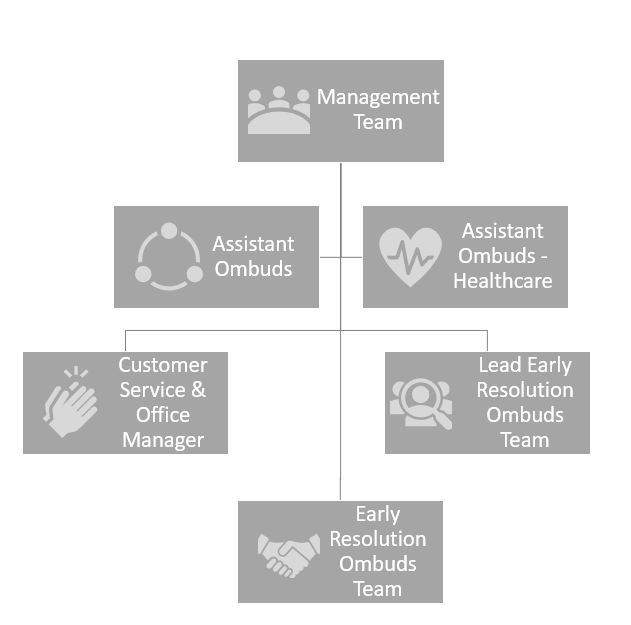 Caitlin Robertson, Ph.D.
-
Director
Caitlin Robertson, Ph.D. (she/her), was apointed director of the Office of the Corrections Ombuds by Gov. Jay Inslee effective June 1, 2022. 
Prior to her appointment, Caitie was the lead assistant ombuds for investigations originating at the state's four eastern corrections facilities. She worked on high-priority investigations related to severe bodily harm and staff conduct. Endeavoring to meet the needs of incarcerated individuals and their family members, she worked on improving the office's case intake and triage procedures; advanced internal training; improved how cases are resolved; and streamlined the office's confidential hotline.
She holds a PhD in leadership studies from Gonzaga University, a graduate certificate in justice and peace studies from the Iliff School of Theology, and a master's degree in conflict and dispute resolution from the University of Oregon School of Law.
Contact: Caitlin Robertson, Ph.D. 
Angee Schrader
-
Lead Assistant Ombuds
Angee (she/her) is a member of the OCO Management Team and brings firsthand knowledge and expertise as an impacted person. Over the past ten years, she has dedicated herself to Substance Use Disorder Recovery and is active in her community by helping others struggling with Substance Use Disorder. She believes in trauma-informed care, which is defined as practices that promote a culture of safety, empowerment, and healing. She is currently pursuing her Bachelor's Degree in Social Work.
Contact: Angee Schrader
Elisabeth Kingsbury
-
Policy Advisor
Elisabeth (she/her) is a member of the OCO Management Team and has worked at legal aid and policy organizations around the country. Her previous roles include senior researcher at Community Voices at Morehouse School of Medicine, Mental Health Unit staff attorney at Prisoners' Legal Services of New York, and Equal Justice Works Americorps attorney at Legal Assistance of Western New York. Elisabeth earned her JD at Northeastern School of Law, where she was named a Public Interest Law Scholar, and her BA in Political Science at Boston University.
Contact: Elisabeth Kingsbury
Carolina Landa
-
Assistant Ombuds
Carolina (she/her) has seven years of experience in direct advocacy and policy work, focusing on incarcerated /formerly incarcerated individuals, special needs communities, and immigration. Carolina's passion for these issues stems from her personal lived experiences and she believes that people with lived experiences have the power to impact the most change by using testimonies to carry the message.
Contact: Carolina Landa
-
Assistant Ombuds - Healthcare
Heather Hamilton
-
Customer Service & Office Manager
Stella Spracklin
-
Lead Early Resolution Ombuds
Stella (she/her)brings skills from her degree focused in institutional history and public policy from The Evergreen State College. She has a passion for helping others and policy reform. She brings strong organizational skills to the team and is an asset as one of the first interns. She is serious about justice reform and feels that all people deserve dignity and respect. Stella has seen the OCO office grow into what it is today and is excited to see what the future brings. Stella is also a certified local of the PNW that loves the outdoors and her cats.  
Contact: Stella Spracklin
E.V. Webb
-
Lead Early Resolution Ombuds - Healthcare and Gender Equity
E.V. (they/he) has investigated healthcare concerns with OCO for over two years and in 2021 published the first OCO Transgender & GNC Systemic Review. Their academic background includes a Bachelor's of Science in Earth Systems & Society and an M.E.S. in Environmental & Climate Justice. Throughout graduate school, he worked as the Lecture Series Program Coordinator at the Sustainability in Prisons Project (SPP) hosting classrooms behind bars while completing critical research on contemporary greenwashing of the Prison Industrial Complex. Their professional background includes climate change research with NASA & international NGOs, Volunteer Program Coordinator at a farm-based youth empowerment non-profit, and more recently, providing support as a live-in certified Home Care Aid for clients with low incomes and disabilities. E.V. was first impacted by the criminal justice system at an early age when their dad was incarcerated and died shortly after being released from a prison in the Deep South.
Contact: E.V. Webb
Rebecca Glosser
-
Early Resolution Ombuds
Zachary Kinneman
-
Early Resolution Ombuds
Jessica Means
-
Early Resolution Ombuds
Jessica (she/her) brings her lived experience to this work, as well as her deep passion for helping women who have recently been incarcerated, as she also works for New Connections in Tacoma, which promotes successful reintegration for women in Tacoma.
Contact: Jessica Means
Chase Rapach
-
Early Resolution Ombuds - Healthcare
Madison Vinson
-
Early Resolution Ombuds
Madison (she/her) has worked with OCO for nearly 1.5 years, starting as a disciplinary infractions intern and moving to an Early Resolution Ombuds. She has experience in a variety of areas including probation, private defense, and clemency work. She received her BA from the University of Washington majoring in Sociology with minors in Diversity, International Studies, and Law, Societies and Justice. She is currently a JD candidate at Seattle University. She has an interest in decarceration, abolishing the death penalty, and overturning wrongful convictions.
Contact: Madison Vinson